This is a repost of a blog I did about a year ago. I decided to repost it because I wrote this early on in my exposure to comic books and graphic novels and because, as you will read, it features my favorite actor of all time.
When I told a friend I was reading Rumble Fish by S.E. Hinton, he brought to my attention that it was also a movie and the movie happened to have Nicolas Cage in it. I highly dislike Nicolas Cage and I think my friend likes to bring up his name as much as possible just to annoy me. (why would anyone EVER want to do that? He must have a death wish.)
But I actually appreciated it this time.
I
t has
been interesting to read about the movie in which Cage plays the minor role of Smokey Bennett
. It was also brought to my attention that Nick Cage isn't Nick Cage at all, but Nicolas Kim Copula. I remember vaguely hearing in the past, since he is the nephew of Francis Ford Copula. Who happen to direct Rumble Fish and The Outsiders. Cage was asked to help out his uncle during the audition process and ended up getting his role from it. It was his 4th movie (including a bit role in The Outsiders.)
So, what happened to Nicolas Kim Copula? He noticed that people treated him differently because of his last name and changed it. He named himself after the comic book hero Luke Cage.
Luke Cage is Power Man, a Marvel Comic and one of the first African-American to have his own comic book series. He possesses superhuman strength and stamina. He is also highly resistant to physical injury.
But Luke Cage/Power Man is just the first of many comic book tie-ins for the Mr. Cage, who considers comic books a type of modern day mythology. And I sort of like that assessment. The friend who brought this to my attention in the first place called him a nerd (the friend is just deflecting truth about himself!) but I really like this idea of mythology (Tolkien felt the same about his own works). And comic books are becoming more mainstream and more credible as pieces of literature.
In 2007 a Ghost Rider movie was released.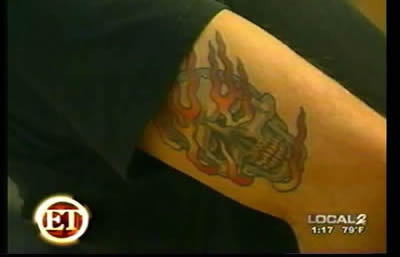 Who did it star? Nicolas Cage.
The ironic thing is
that he has been a fan of the series for a long time. And every day his tattoo referencing it needed to be covered up. What a dream to play the role of one of your childhood heroes. He was quoted saying, "Oh yeah, absolutely. I enjoyed the image of the skull on fire when I was a boy and the mythology of it, the Faust-like storyline was so original for a Marvel comic book character."
Instead of a "hard drinking and smoking bad ass" Johnny Blaze, Nicolas Cage decided to give him more
d
epth. "I'm playing him more as someone who... made this deal and he's trying to avoid confronting it, anything he can do to keep it away from him". I have never seen the movie nor been a fan of the comic.
Have you? How did he succeed in his portrayal?
Cage has even created a comic book series with his son called Voodoo Child. He says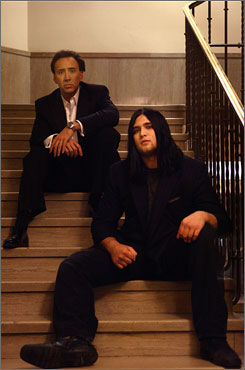 that the series is different because it's "more spiritual than, say, a Superman or a Batman." He share that "Weston has alwa
ys been a huge
inspiration to me," Cage said of his son. "He has been drawing comics since he was three." Weston says he had tinkered with the idea for Voodoo Child since seeing hurricane damage in New Orleans, where he and his father lived part time for years. The first of the six-issue miniseries was published in July 2007. And finally, how big is Cage's comic book o
bsession? When his third wife Alice gave birth t
o a boy two years ago, the Cages named hi
m K
al
-el, which every comic-book addict knows was the name that Superman was given as a baby on the planet Krypton.
After all this I just wasted a good portion of my life researching an actor I don't particularly like and, well, actually enjoyed it! I have been interested in learning more about comics for some time but this idea of mythology has suddenly made it more approachable. So, we went from Rumble Fish to comic books, and it was an extremely interesting journey. Did I leave something out? Enlighten me!
For someone newly interest in comic books/graphic novels, where is a good place to start? Would you consider it representative as modern day mythology?