Zombies Love My Brains
Today/yesterday kicked off
Tor.com's Zombie Week
, and I have to admit that I am more excited than I expected. Ever since going to the LTUE panel on Zombies I have had a particular interest in exploring the world of these creatures. Combine this with the glorious writing of Carrie Ryan in The Forest of Hands and Teeth and I am verging on being a hardcore zombie fan.
On my recent book buying splurge (if you missed it I ordered almost 100 books in a span of a few weeks) I also become the proud owner of a handful of zombie books. With great zombie books coming out by authors like Max Brooks, it seems that the interest in zombies is being pushed out of the fringes into the main stream. The only Max Brooks book I have started so far is World War Z and I have to admit it is pretty amazing.
New acquisitions to my zombie library are:
Zombie Blondes by Brian James first and foremost has an amazing cover. The book caught my eye previous to me finding it on the Better World Books website. The cover and concept had me thinking this was some variation on high school Stepford Wives. All I really know about this book is the words on the cover. It may be totally worthless but I figured for $2.50 my interest in it was enough to give it a try.
From the publisher:
From the moment Hannah Sanders arrived in town, she felt there was something wrong.
A lot of houses were for sale, and the town seemed infected by an unearthly quiet. And then, on Hannah's first day of classes, she ran into a group of cheerleaders—the most popular girls in school.
The odd thing was that they were nearly identical in appearance: blonde, beautiful, and deathly pale.
But Hannah wants desperately to fit in—regardless of what her friend Lukas is telling her: If she doesn't watch her back, she's going to be blonde and popular and dead—just like all the other zombies in this town. . . .






The Ultimate Zombie is a collection of short stories. Considering that I essentially haven't read very many zombie stories. And I am not entirely sure where my interest in zombies really stems from. After the panel at the symposium, I started connecting with the more political aspects of zombie stories.
I guess I never really took zombie stories seriously. And in part that is the beauty of them. They make statements in such a subtle way in can read as pure entertainment.
For me it once again boiled down to the budget issue. This book may not be the best but the price was right. This 391 page volume has 23 stories from a variety of authors, including some I've heard of. Anne Rice, Kevin J. Anderson, and Gene Wolfe along with a bunch of authors that I don't recognize.
I am looking forward to exploring zombie fiction in these bite sized pieces. Like I said, I am not really sure what has originally brought me to zombie fiction, and I am interest in breaking down that interest and seeing where it stems from. For your own exploration of zombie short fiction, check out Zombie Week's Bitter Grounds by Neil Gaiman.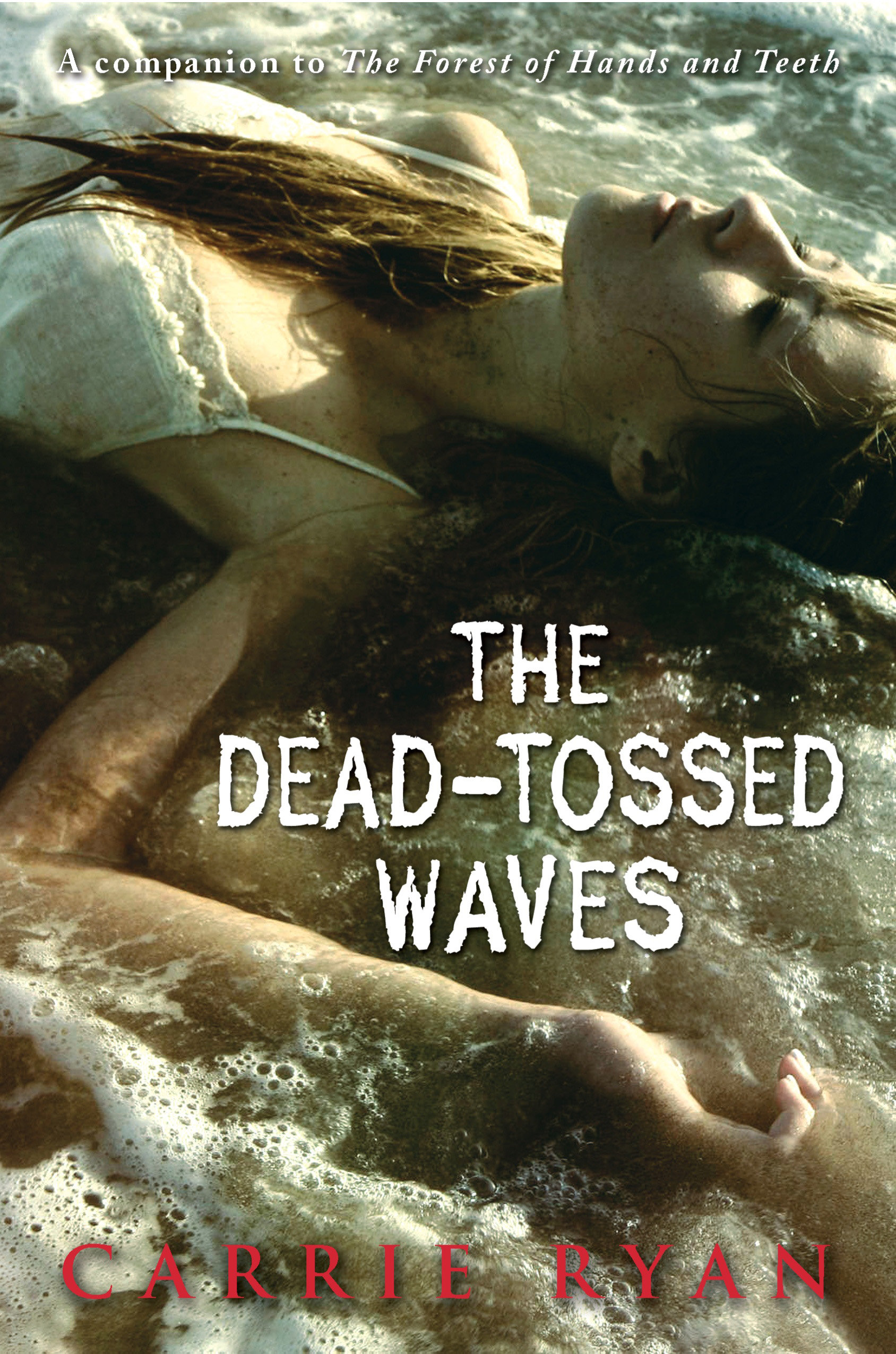 Mr. X also got me The Dead-Tossed Waves by Carrie Ryan. This is definitely my most exciting new zombie acquisition. The Forest of Hands and Teeth was an amazing read. I was surprised and overwhelmed by my reaction to it. I am hoping that this book is going to be one of the very rare times when I am satisfied with the second book in a series.
Have you read this already? Do you feel like it is a good follow up novel?
I have been eager to have Mr. X read The Forests of Hands and Teeth but having him buy me The Dead-Tossed Waves will do in the meantime.
From Booklist:
The Forest of Hands of and Teeth (2009) spliced classic zombie mythos into a world that was one part postapocalypse and one part colonial America and drove the plot with a healthy surge of teen hormones. This companion piece, which features some returning characters in minor roles, involves another discontented young woman, Gabry. Life within her walled town is shattered when a group of her friends step past the border and are attacked by the Mudo (that's zombies to you and me).
This week I am shuffling around my reading list a little bit to try and include a few more zombie reads. Are you currently reading anything zombieish?
Also check out