Presents
You did know it was my UNbirthday, didn't you? Yep,
ALL MONTH LONG
!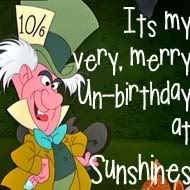 Guess what?
My first present showed up in the mail today!
(Besides the ones I bought myself.)
White Tombs
by Christopher Valen
And it is SIGNED!
How did I acquire this book, you may ask.
Anne Florenzano had a contest on her blog,
Light, Motion and Magic
and I WON!
This is the third contest I won but the first book to show up. Stay tuned to find out what I think.
So today, my question for you is a completely self serving one.
Without being limited by money what would YOU buy me for my UNbirthday?
Have you seen a book you think I would like?
Or something else?
I can't wait to hear!