I love books. What? You didn't know that. Hope it's nice and cool under that rock. So, yesterday I am sitting at my computer and i hear a knock at the door. Of course this scares the crap out of me because no one ever comes to my door. I slowly walk to the door, I open it a crack and peek out...No one is there. I open it wider, still see no one. What do I see? This beautiful, worn, orangey-yellow envelope. What was inside?
Admit it, you totally hate me now. Isn't that cover amazing? And I totally want to read it. Like, RIGHT NOW! But I can't, I have too many books I am in the middle of.


I still am working on The Looking Glass Wars. At
first I was loving it and now a little bit less so. Frank Beddor was at Comic-Con this week and gave a great sounding presentation on the the trilogy and its inspiration and all the work he put into it. I was really sad to have missed it.

I love the concept of taking a new spin on Alice and her Wonderland, but I am honestly a bit let down by the writing. Yes, it is good storytelling, but not the type of writing that moves me. Has anyone checked out Alice's Adventures Underground?

I am also reading and loving The Book Thief. I have a goal to read all the Printz winner and honors and also have my own copies of each. There is so much to like about The Book Thief and it's unique writing style. I really feel it stretching my brain when I try to read it. I am reading this for the Dark and Stormy Book Club run in part by my plurk bud! (You may have seen her looming about my comments.) This is one of those books I am thrilled to know I will be sharing the experience with a few other people. There are two parts early on that I particularly loved.

The first is very early in the book. It says, "The question is, what color will everything be at the moment when I come for you? What will the sky be saying?" (4). These words send ideas popping through my mind, drifting and bursting in several different directions. Even outside the context of the book, I think these two questions would make an amazing writing prompt.

The second part that I really connected with has to do with the fact hat I have not been sleeping well. It has been hot and my mind has been racing through darkened hallways, looking for something in the murky darkness. And all I can hope is that when I drift off the world will become blank. But it doesn't. "At those times, in the enormous milage of sleep, she had never felt so completely alone" (39).

I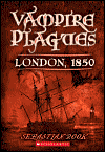 finished up (my only book in the last 2 weeks!) Vampire Plagues: London. Now, I was concerned about this middle grade book's ability to keep my interest. But I found it very well written. I have never read a vampire book where the vampire(s) were pure villain with no seductive qualities and it was an interesting experience. I also really like how the book ended, sometimes series books can be so manipulative with the cliffhangers! I am happy to be reading the other two books in the series, which I just called and renewed yesterday.


I know everyone is thrilled about the release of Breaking Dawn. There is a big party here to celebrate. Is anyone going to a release party in their area?
And on that on that note too. Have you met any young adult authors? Who would you like to meet the most? (JOHN GREEN!!!!)


Summer is soon drawing to an end. I thought I was going to get a lot more reading done than I did. I managed to forget how hot it can get and how much that makes me not want to read. What books are you trying to read before summer is over?


Teen Tuesday is the day we set aside for teen book lovers visit with each other to find out what's being read in the world of young adult literature. You can comment whether you are a participant or not. Visit all the posters at teentuesday.blogspot.com.