Thursday Thirteen - Literary Tattoos
This is unfortunately not a totally original idea. In fact, there is a whole blog out there about literary tattoos called Contrariwise. But once I started looking I found out there are a lot of interesting articles and pictures and everything out there regarding the topic. One blogger sees this trend as a way to "signpost your erudition through skin ink." If you visit the Contrariwise blog or do your own search you will find certain authors and phrases are very popular. Especially Vonnegut, specifically the phrase "so it goes."

Shirley Dent summarizes the message of an article in The Economist saying, "tattoos are no longer the edgy insignia of the free spirited but the arty-farty must-have accessory of the middle classes." She continues to stay that those who get literary tattoos are able in some way to transcend the trend of the tattoo and show more of their personality. What do you think?

Many other bloggers have also posted a link to Contrariwise with questions like, What literary tattoo would you get?

I have two tattoos and in some ways it surprised me that I never previously thought about getting a literary tattoo. I think in part I haven't given it much thought, but also there has been too few or too many lines from literature that really resonates through me.

Here are my 13 FAVORITE literary tattoos:

1. Atlas Shrugged - Ayn Rand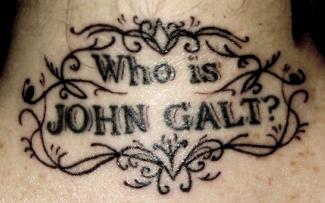 2. Through the Looking-Glass - Lewis Carroll


link to original Tenniel illustration

3. Alice in Wonderland - Lewis Carroll



4. The Giving Tree - Shel Silverstien



5. The Bell Jar - Sylvia Plath

"I took a deep breath and listened to the old bray of my heart: I am, I am, I am."
6. "The Road Not Taken" - Robert Frost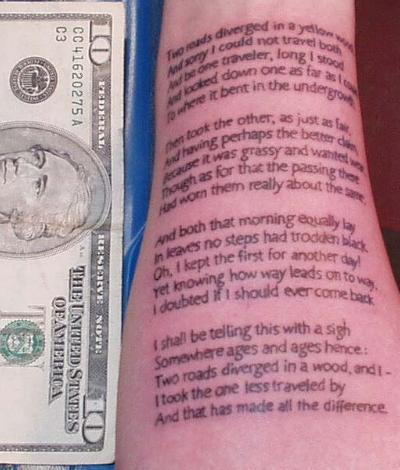 Full poem, with money as size comparison.

7. Slaughter House-Five - Kurt Vonnegut Jr.


(yes, I actually included one)

8. Oepipus Rex - Sophocles


"Give me life
wherever there is opportunity
to live."

9. Molly Bloom in Ulysses - James Joyce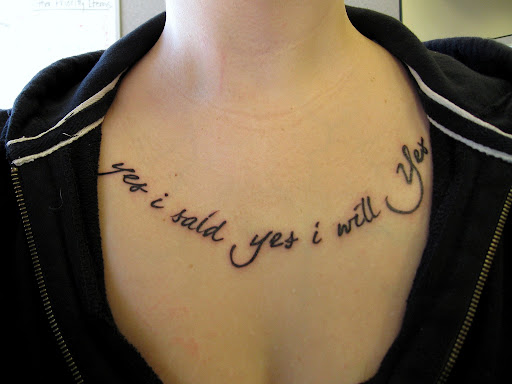 "...his heart was going like mad and yes I said yes I will Yes."

10. "I Know a Man" - Robert Creeley


"can we do against
it, or else, shall we &
why not, buy a goddamn big car"

11. be of love (a little) - e.e. cummings



12. To Kill A Mockingbird - Harper Lee


for cajunvegan

13. Through the Looking-Glass - Lewis Carroll


Inspiration for the blog name.
"Contrariwise," continued Tweedledee, "if it was so, it might be; and if it were so, it would be; but as it isn't, it ain't. That's logic."

Interested in more?
Here is a list of interesting links, tattoos, ideas, and commentary.


Do you have or would you like your own literary tattoo? Tell me about it!
Which of these existing tattoos do you like the best? Which could you see yourself having? And finally:dublinka asks: But are there any poets out there using their own skin as a notebook? Would be kind of cool...