New Years Resolution
I usually don't do Resolutions.  There is part of me that finds them quite pointless.  I like the renewing effect that facing a new year
creates, but we shouldn't be changing ourselves one day a year. It should be a constant transition to being a better us.
That being said, I have created some goals for my reading and blogging.  I have been wanting to create a more balanced reading list in order to expose myself to more genres and authors. And blogging is also great at helping record personal goals and add extra fun into the experience.  So here they are.
1. Any subscriber to my blog would know I am a HUGE fan of young adult literature.  As a result of this passion I have decided to feature a YA author monthly on my blog.
My goal is to read as many books of that author as I can get my hands on in the month and also do some interesting features on each author.
2. A few years ago I read Boys and Girls Forever by Alison Lurie.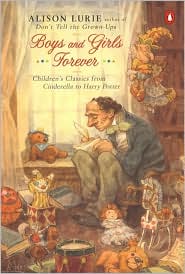 It is a collection of essays regarding classic young adult books and some contemporary best sellers.  I decided I wanted to reread this book.  Each month I am going to read an essay from it and also one of the young adult books mentioned.  I think this will be a fun way to get through some of the classic young adult books I keep find excuses not to read.
I have loved these essays even since I first read them.  Though there are times that Lurie makes some pretty long leaps to get to her conclusions.  It is fun reading her ideas, especially when you remember it is just her interpretation.  I am really looking forward and looking at these essays again.
3. As a new fan of science fiction I have been enjoying finding out what kind of subgenres in this category I enjoy.  So each month I plan to read at least one book off the top 100 Science Fiction Books list.
4. Alas, I did not finish the 1% Well Read Challenge before the new year as I had hoped.  But I am trying keep being well read.  I want to try and read 3 books from a list a month.
5. Inside The Writer's Studio is a a new feature I will be starting next week. But you don't get to know what it is quite yet.  Be sure to check back!
Do you have any resolutions?