UNbirthday
It isn't my birthday, but I am pretending it is. All month long I am celebrating my UNbirthday!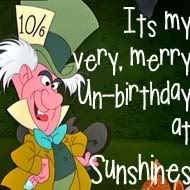 On Monday, you may recall, I asked for "all the rest of the books in the world." And I am making great progress towards that goal!
Yesterday I bought over 40 new to me books.
But, more about that later.
You know what a birthday isn't complete without?
SURPRISES!
The first surprise came on Monday from Brittanie.
I won A Soldier's Family

by Cheryl Wyatt.

Next one came today.
I won Sherry's very generous 100,000 Hit Giveaway.
The Book of Life: An Illustrated History of the Evolution of Life on Earth
by the late Stephen Jay Gould and a nicely framed set of dinosaur stamps featuring 2 dinosaur scenes painted by famous Dinotopia author James Gurney.


Now for the books I bought for myself.
There are WAY TOO MANY to list here. But I will tell you that I spent about $30 total on them.
2 I gave to an 8 year old girl who lives down the street from me.
She was so excited.
I got one picture book for my daughters.
Time to Sleep
For some reason I have been thinking a lot about Anne Tyler.
I resolved that the next time I saw one of her books I was going to buy it.
I am not familiar with her work at all , just her name.
I have no idea if Saint Maybe
is any good, but for 50 cents, who cares?

I have read and enjoyed the first three books of the

Princess Diaries

Series. I happy picked up Meg Cabot's All-American Girl
.

I have seen A Beautiful Mind: The Life of Mathematical Genius and Nobel Laureate John Nash
in the store a couple of times before. But I admit it, I'm cheap. The last time I saw it it was $2. But this time it was 50 cents and found it's way home with me.

And finally,
I have heard about The Curious Incident of the Dog in the Night-Time
a million times. I have always wanted to read it and now I can!

I didn't do too bad, did I?
So now YOU have to tell me if you have read any of these books and please, please share you experience with me.
You can also check out my shelfari bookshelf and see if you have any of my other books.
I would love to hear from you.
HAPPY UNBIRTHDAY!