Scenario: You've just bought some complicated gadget home . . . do you read the accompanying documentation? Or not?



Do you ever read manuals?




How-to books?


Self-help guides?


Anything at all?
If I have just bought something I don't usually read the stuff that comes with it but I may refer to it as needed. I usually keep manuals around and am happy that I have when I need to know something. Even when the info isn't actually in the manual I feel better knowing that and know that it is probably time to call customer service.

How-to books and self-help guides? Sure. As I mentioned last week I feel a lot of these can help you be a better writer if you take the tools and apply them to your writing as well as to your life. Here is just a sampling of some of the books I have collected over the years.
Living Juicy: Daily Morsels for Your Creative Soul
by Sark (Susan Ariel Rainbow Kennedy)

This book is pretty fun and amazing. Ity is full of bright colors and doodles and is all about embracing anything that you feel like outputting!

Sark has a whole series of b
ooks but I got this one years and years ago. As you can tell from her author picture, Sark isn't the type to take anything too seriously. Her books are a lovely combination of drawings and hand written pasages. Her website gives you a great look into her world and Google Book Search has a great preview of this book, but you sort of have to turn your head sideways. Maybe there is a setting that fixes that or something.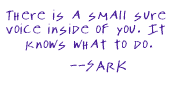 Up next is Beat Spirit
by Mel Ash. This book is all about being who you
are. Being the person you are on the inside and just pushing that part of you out. It is about not having fear. It doesn't just ask you to think
outside of the box it asks you to BE outside of the box. This book was really helpful for me. I realized I just needed to stop being afraid of the person who I was inside. The one I thought I couldn't let out or no one would like me.

I really like self help books. Not the gimicky kind. But ones that are really about growing, even if you don't take everything thing they say to heart there are so many things you can still learn. I know that a lot of times I find myself thinking "That's crazy!" But then later I notice myself thinking differently, thinking one step closer to that craziness I was just denouncing.

Do you have a book like one of these tucked into your life? Following you through it? Maybe you don't even read it yet you can't bring yourself to get rid of it.