Thursday Thirteen
Thirteen things I wish I had gotten for Christmas.
1. ACR of Fade by Lisa McMann.  Wake was one of the best novels I read in the whole of 2008. I cannot wait to read the sequel.
Wake is such a unique book I would recommend it to anyone and everyone.
Just watch the trailer for Wake!
2. Little Brother by Cory Doctorow.  The ebook is available
online here, (totally free and legal) but this is a book I want to hold in my hands. I may suffer without it and just read the ebook but I don't want to.  I have heard so many good things about this.
This book has been recommended to me several times in the last few months.
Have you read it?
The New York Times named it a notable children's pick for 2008. They call it "a novel that is at once an entertaining thriller, a thoughtful polemic and a practical handbook of digital-age self-defense."
3. Diamond earrings.  No this isn't a book title.  I just really want some nice diamond studs that I can wear all the time and have a little sparkle in my life.

4. A maid.
5. New tires for my van. This needs to be done before March anyway.  Wouldn't it be awesome if Santa had gotten them for me?
6. A chance to see my boyfriend. Corny but true.
7. A second toaster.
8. The Professors' Wives' Club
by Joanne Rendell.
I have only recently become aware of this book.  But I love the title, the cover and the premise.
Joanne is in fact a professors' wife so I bet there is quite a unique perfective in this book. The Professors' Wives' Club is her first novel, but she has already sold her second and third. 
I am not sure, but I think we may be allowed to hate her for this. What do you think?
9. A spa getaway.
10. My dishwasher and washing machine fixed.
11. Let It Snow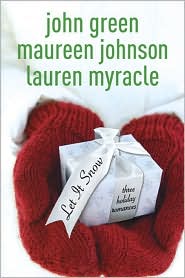 12. My wall to wall bookshelves build behind me. I am sure you have no idea why I may need them.
13. David Cook serving me breakfast in bed.
Actually, he is so delish, who needs food?  So maybe just Dad Cook in bed?!
(The best thing about this picture? His horrible short hair is cropped out of it.  And the size of his massive forehead is greatly diminished. The eyes aren't bad either.)