Mailbox Monday
I seriously wish my mailbox looked like this picture. With all the personal letters and international mail. But, no, it is mostly filled with boring white enveloped bills. The saddest thing about growing up is the resentment you have for the mail. Even when you have the money to pay them, bills tend to mock you, pointing out the fact that no one mailed you a letter today.
Truthfully I don't deserve any letters. I am horrible with the mail and have not sent any of the 10 or so letters I have written in the past year and a half. In my Sunday Salon post a week ago I talked about epistolary novels and the death of the mail posted letter. It sort of saddens me that I am part of that murder. But luckily this week, even though there is no way I deserve it, I did get a letter. It was tucked up in a package of books but it made me very happy to see a nice, handwritten letter.
Since we are celebrating my birthday until the end of my contest, Chelsea's presents aren't actually late. Even though I am getting a lot of entries on my contest, very few are actually following up with my birthday request!! You greedy people! Comment more so I know you are out there and we can get to talking about books. Sure, I do have a sexy voice, but don't you get sick of droning on and on? And considering you can't actually hear my voice reading this to you, what exactly is the point? COMMENT.
Okay, now that the pep talk is over, are you wondering what Chelsea gave me??? 5 books, a pile of bookmarks, and as previously stated a handwritten letter. I love young adult lit and the whole scope of the age range. But I find that the middle grade books often embody the best writing and have the broadest interest level. Knowing this, Chelsea sent me 4 middle grade books.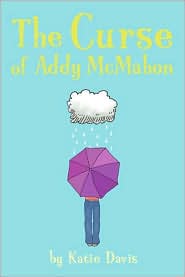 These all look really good, but I am especially excited about The Curse of Addy McMahon
and Shug
. I hope I will be able to get the chance to read them this month. That is another reason why I love middle grade books, they usually end up being a really fast read. When I haven't finished a book in a while I always turn to a book like one of the ones above and read it just knowing I will be able to finish it in a day or two. Have you read any of these books?
____________________________________
At a recent author chat for The Page Flipper's bookclub, I was able to chat with another author who sent me his book for review. It looks really interesting and also like it is a going to be a breezy fast read. I love bookclubs and this month I am participating in three of them. With all that reading and some previous review obligations, I likely won't be getting to his book in February at all. If you have read it already, please leave a link to your review in the comments.


Across the Pond
by Storyheart.
____________________________________
When I won The Eye of Night
for Ann Aguirre's book club I asked her if she had any copies available of her first novel. Grimspace
is a science fiction romance and it sounds right up my alley. I am a new fan of the science fiction genre and am trying to explore it to the best of my ability. I am eager to read Ann's books. Yes, books. Because she didn't send just one, but BOTH in the series. Grimspace
and Wanderlust
. I adore to cover for Wanderlust but I have no idea why.